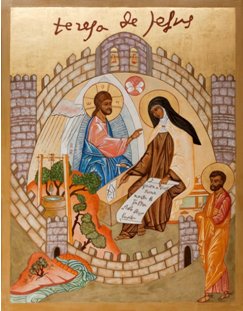 A Contemplative School of the Heart has emerged out of the Contemplative Spirituality Network programme of talks, quiet days, art courses and retreats. The unique character of this school lies in the way, within the renewal of contemplative Christianity alive in our time, it embraces, at depth, the living teaching, and golden thread, of the Christian mystical tradition from the Spanish Renaissance.

Through the writings, and lineage, of the Spanish Mystics, Francisco de Osuna, St Teresa of Avila and St John of the Cross we can embrace the possibility of opening the inner 'eye' and 'ear' of our hearts to receive, more fully, the wisdom of Jesus' teaching to be transformed, in union of Love, within the body of Christ.
The life of a spiritual school is nurtured by establishing a rhythm of regular meetings where, in an atmosphere of spiritual friendship, a deep schooling or education of the heart is possible. A school of the heart is understood as a threefold movement around experience of spiritual community, contemplative practice and receiving the transmission of Christian contemplative wisdom.
Throughout 2018, there are regular Saturday retreat days, which follow a pattern of spiritual practices working together for spiritual formation. These practices include spiritual conversation, lectio divina, which is in-depth listening together with sacred texts, and silent prayer. These retreats take place at the Rose Window Hermitage in North London. Please bring lunch to share with the community. A donation for the day, and the school, would be most welcome.
Other retreats and workshops during the year include –
• Three weekend residential retreats of silence, spiritual conversation and community.
• The annual Holy Island retreat from August 25th to Sept 1st, 2018.
• Three weekend retreats, Praying with the Spanish Mystics
• Holy Island Fundraising Pilgrim Walk
Creativity, artistic expression and spiritual transformation can flow freely from self-awareness, meditation and contemplative prayer. The work of the school of the heart is dedicated to offering resources, courses and companionship to nurture, guide and facilitate  our creative expression. During 2018 there are ongoing 'Imagination and Creative Vision' painting courses being offered each term. If you are interested in joining one of our painting courses please contact info@contemplativespirituality.org
If you are interested in spending a quiet day on your own in the peace and silence of the Hermitage, please contact us. Do let us know if you require spiritual direction during your quiet day. Please bring a packed lunch. Tea and coffee provided.


Contemplative School of the Heart Printable leaflet